THANKS TO EVERYONE FOR PARTICIPATING!

THE WINNERS ARE AS FOLLOWS....

1. SLOANE MONROE SERIES BOOK PACKAGE: Cindy Scioli

2. COOKIE GIFT PACKAGE: Scaro

3. AMAZON GIFT CARD: Bob Smith

4. BLACK DIAMOND DEATH: Lance Smith

5. SINNERMAN: Cheryl Gregory

6. I HAVE A SECRET: Knitting Hooker

7. STRANGER IN TOWN: Sheryl Morgan

8. BED OF BONES: Just Being Me

If you are a winner, please be sure to contact me at cherylbradshawbooks(at)hotmaildotcom with your information so I can get your reward out to you.

CONGRATULATIONS!!!

...


Bed of Bones (Sloane Monroe Series #5) is finally here!
DESCRIPTION
Sometimes even the deepest, darkest secrets find their way to the surface…
Summer 1956
Thirteen-year-old Willie Compton and his younger brother Leonard stumble upon a mine shaft while hiking the hills of Park City, Utah. The shaft is unsealed, abandoned. While Leonard stares at the hole in wonderment, a Slinky he's been flipping back and forth between his hands slithers through his fingers, tumbling toward the mouth of the shaft. Leonard bolts forward, reaches out to grab it, but he slips, then he falls.
Present Day
Up-and-coming filmmaker Melody Sinclair stirs in her chair, nervously awaiting the debut of her film at the Sundance Film Festival. Based on a true story, Bed of Bones tells a tale of murder, shining a big, bold light on Park City's tragic past. A past that's about to revisit the present.
...
To celebrate, I'm offering several different prizes throughout the month of October for anyone who purchases the novel and leaves a review.
(Reviews must be entered before the last day of October)
You can purchase a digital copy of Bed of Bones at the following places:
Amazon
iTunes (we're just waiting for this one to go live, link coming later)
ANYONE who purchases the novel and leaves a review this month will be entered into a drawing for a chance to win one of 8 following prizes:
GRAND PRIZES:
#1 Signed paperback copies of all five books in the Sloane Monroe Series, including Bed of Bones.
#2 Halloween Gift Tower from Cheryl&Co
Includes cookies, brownies, and all kinds of fun treats!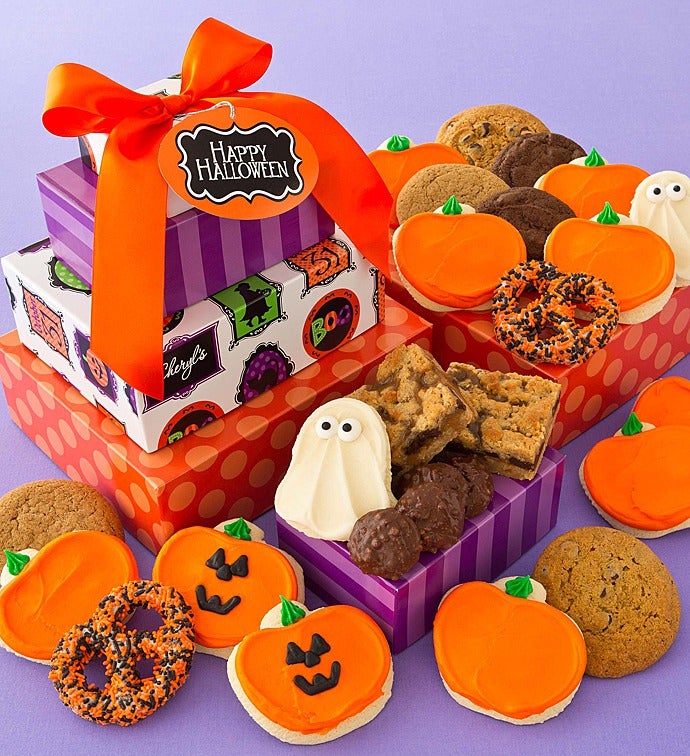 #3 $25 Amazon Gift Card
#4
SIGNED PAPERBACK OF BLACK DIAMOND DEATH
(SLOANE MONROE SERIES #1)

#5 SIGNED PAPERBACK OF SINNERMAN
(SLOANE MONROE SERIES #2)
#6 SIGNED PAPERBACK OF I HAVE A SECRET
(SLOANE MONROE SERIES #3)
#7 SIGNED PAPERBACK OF
STRANGER IN TOWN
(SLOANE MONROE SERIES #4)
Purchase a copy of
Bed of Bones
between now and October 31st, leave a review, and
ADD A COMMENT BELOW
with your name and where you left the review(s). If you are having a hard time posting a comment, NEVER FEAR! Click
HERE
to email me and I will add you :)
As a side note, the more reviews you leave, the more you'll be entered. For example, if you leave a review on Amazon and Barnes & Noble, you'll be entered twice, and so on. There are four places it is currently on sale in a digital format where you can leave a review.
See the list above for places to purchase.
GOOD LUCK AND THANK YOU FOR YOUR SUPPORT!